Università degli studi di Padova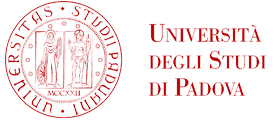 Last Update: April 7, 2022
University Professors in Experimental Biology (BIO/13)
Luca Bargelloni – Dipartimento di Biomedicina Comparata ed Alimentazione
Paolo Bonaldo – Dipartimento di Medicina Molecolare
Alessandra Rampazzo – Dipartimento di Biologia
Massimo Santoro – Dipartimento di Biologia
Paola Braghetta – Dipartimento di Medicina Molecolare
Enrico Moro – Dipartimento di Medicina Molecolare
Gianluca Occhi – Dipartimento di Biologia
Maurizio Onisto – Dipartimento di Scienze Biomediche
Andrea Rasola – Dipartimento di Scienze Biomediche
Giovanni Vazza – Dipartimento di Biologia
Libero Vitiello – Dipartimento di Biologia
Enrica Calura – Dipartimento di Biologia
Matilde Cescon – Dipartimento di Medicina Molecolare
Michela Pozzobon – Dipartimento Salute della Donna e del Bambino
Valentina Masola – Dipartimento di Scienze Biomediche
Luca Persano – Dipartimento Salute della Donna e del Bambino
Valeria Scalcon – Dipartimento di Scienze Biomediche
Anna Urciuolo – Dipartimento di Medicina Molecolare
PO (Professore Ordinario / Full professor)
PA (Professore Associato / Associate Professor)
RTI (Ricercatore a Tempo Indeterminato / Assistant Professor)
RTD-B (Ricercatore a Tempo Determinato – Senior / Fixed-term Senior Assistant Professor)
RTD-A (Ricercatore a Tempo Determinato – Junior / Fixed-term Junior Assistant Professor)
Fellows in Experimental Biology (BIO/13)
Silvia Castagnaro – Dipartimento di Medicina Molecolare
Michael Donadon – Dipartimento di Biologia
Enrico Gaffo – Dipartimento di Medicina Molecolare
Roxana O. Oberkersch – Dipartimento di Biologia
Giovanni Tosi – Dipartimento di Biologia
Nicola Facchinello – Dipartimento di Medicina Molecolare
Lisa Gambarotto – Dipartimento di Medicina Molecolare
Francesca Gasparella – Dipartimento di Biologia
Jacopo Liddonici – Dipartimento di Biologia
Giulia Pigato – Dipartimento di Medicina Molecolare
Alessandra Rampazzo – Dipartimento di Biologia
Alessandro Zuppardo – Dipartimento di Biologia
Cristina Arce – Dipartimento di Biologia
Lorenzo Badenetti – Dipartimento di Medicina Molecolare
Andrea Binatti – Dipartimento di Medicina Molecolare
Raquel Branas Casas – Dipartimento di Biologia
Sonia Calabrò – Dipartimento di Medicina Molecolare
Chiara Consorti – Dipartimento di Medicina Molecolare
Nicola Greco – Dipartimento Sc. Biomediche
Rosa Manzoli – Dipartimento di Medicina Molecolare
Samuele Metti – Dipartimento di Medicina Molecolare
Loris Russo – Dipartimento di Medicina Molecolare
Sara Vencato – Dipartimento di Biologia
A (Assegnista di Ricerca / Post-Doctoral Fellow)
D (Dottorando / PhD Student)
B (Borsista / Fellow)
T (Tutor)
Research Group 1
Paolo Bonaldo
Paola Braghetta
Matilde Cescon
Anna Urciuolo
Dario Bizzotto (Technician)
Silvia Castagnaro
Nicola Facchinello
Lisa Gambarotto
Chiara Consorti
Loris Russo
Sonia Calabrò
Samuele Metti
Giulia Pigato

Research Themes
role of the extracellular matrix (ECM) in tissue homeostasis with a focus on collagen VI and emilins: i) molecular and cellular mechanisms involved in the transduction of ECM signals; ii) in vivo analysis (mouse and zebrafish models) of protein distribution and function in different tissues; iii) implication of ECM proteins in disease-specific contexts; iv) ECM impact in tumors;
production and analysis of animal models of muscular dystrophies, focus on: i) pathogenetic mechanisms; ii) new therapeutic perspectives; iv) neuromuscular junction physiology; iii) identification and validation of new biomarkers for the diagnosis and therapy;
production and analysis of animal models of congenital cardiomyopathy, focus on: i) signals inducing cardiac fibrosis; ii) ECM implication in cardiac fibrosis; iii) new therapeutic perspectives;
role of autophagy in normal and pathological conditions in skeletal muscle and central and peripheral myelinating glia: i) conditional knockout models for the study of specific autophagy-related genes; ii) nutritional approaches and new drugs in neuromuscular diseases; iii) gut-neuromuscular axis;
development and study of bioengineered human neuromuscular tissue with a focus on: i) differentiation of human induced pluripotent stem cells; ii) role of biomaterials and three-dimensional cell culture systems in the neuromuscular tissue maturation; iii) pathogenetic mechanisms of neuromuscular diseases
Keywords: extracellular matrix, functional genomics, transgenesis, autophagy, muscular dystrophies, skeletal muscle, myelinating glia, human neuromuscular in vitro models.
Research Group 2
Enrico Moro
Rosa Manzoli
Lorenzo Badenetti

Research Themes
the analysis of pathogenic mechanisms underlying lysosomal storage disorders, particularly Mucopolysaccharidosis type II and Gaucher disease. Our major experimental tools are available zebrafish mutants and human cellular models for the two diseases. We do perform extensive molecular profiling of key signaling pathways underpinning the disorders to recapitulate their early pathogenic steps;
the generation of novel suitable transgenic models to track in vivo the oxidative stress response and inflammasome recruitment. Such tools enable to identify in a tissue-specific fashion the onset of inflammatory and oxidative stress-related processes with the potential application of drug-based targeting;
the manipulation of human neuronal precursors' switching to different cell fates upon key growth factors administration;
characterization of signaling pathways modulated by novel anti-oncogenic molecules, using cell signaling transgenic biosensors.
Keywords: lysosomal storage disorders, zebrafish, cell signaling pathways, central nervous system.
Research Group 3
Stefania Bortoluzzi
Enrico Gaffo

Research Themes
Keywords:
Research Group 4
Alessandra Rampazzo
Giovanni Vazza
Libero Vitiello
Gianluca Occhi
Research Themes
Our research topics deal with the study of Mendelian and multifactorial diseases, chiefly inherited cardiomyopathies, muscular dystrophies and familial cancers, in terms of genetic diagnosis, characterization of pathogenetic mechanisms at the cellular and molecular level and identification of therapeutic molecules. We use genome-wide in silico analyses, patient-derived and mouse-derived cell cultures and in vivo murine models.
Keywords: genomic variants, transcriptome, cell signaling pathways, therapeutic targets, arrhythmogenic cardiomyopathy, Duchenne muscular dystrophy.
Research Group 5
Massimo Santoro
Roxana Oberkersch
Cristina Arce
Giovanni Tosi
Michael Donadaon
Jacopo Liddonici
Alessandra Rampazzo

Research Themes
metabolism and signaling in angiogenesis
metabolic control of cardiovascular maturation
the role of lipid metabolism and signaling in cancer progression
circadian clock in angiogenesis
novel therapeutic approaches in corneal dystrophies
Keywords: angiogenesis, cancer metabolism, oxidative stress, cardiovascular, zebrafish and mouse model.
Research Group 6
Natascia Tiso
Raquel Branas Casas
Alessandro Zuppardo
Our group is involved in modeling in the zebrafish (Danio rerio) organism (mutant, transgenic and reporter lines) a set of human conditions including:
mitochondrial Polg-related disorders
congenital cardiomyopathies
fetal growth restriction
congenital cataract.
Keywords: zebrafish, mitochondria, Polg, heart, cardiomyopathy.
Research Group 7
Maurizio Onisto
Valentina Masola
Nicola Greco
Research Themes
Biology of the extracellular matrix (ECM), cell signaling, drug targeting at the molecular and cellular level, biological tests and cellular mimetic models for the study of cell and tumor invasiveness.
Study of matrix metalloproteinases (MMPs) and related tissue inhibitors
Study of heparanase, the only specific endoglycosidase capable of cleaving heparan sulfate (HS) chains thus resulting in the turnover of the ECM and in the release of many HS-related molecules such as growth factors, cytokines and enzymes involved in fibrosis, inflammation and tumor invasion
Effects of growth factors (TGFb, EGF and VEGF) and their receptors on gene expression and synthesis of ECM molecules and on tissue remodeling
Development of bio-compatible solutions for peritoneal dialysis (PD)
Role of metabolism in fibrosis-associated organ injury (heart, kidney and peritoneum)
Keywords: ECM biology, Matrix-metalloproteinases, Heparanase, Matrix-mediated signaling, Epithelial–mesenchymal transition (EMT).
web page administrator: Silvia Canaider