Università degli Studi dell'Aquila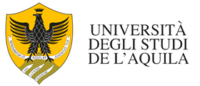 Last Update: December 14th, 2020
University Professors in Experimental Biology (BIO/13)
Fellows in Experimental Biology (BIO/13)
A (Assegnista di Ricerca / Post-Doctoral Fellow)
D (Dottorando / PhD Student)
B (Borsista / Fellow)
T (Tutor)
Research Group 1
Carla Tatone
Stefano Falone
Giovanna Di Emidio
Valeria Cordone
Valeria Panella
Martina Placidi
Teresa Vergara
Giovanni Casoli
Research Themes
Cellular adaptations to endogenous or exogenous stressors through antioxidant and antiglycative responses involving reactive oxygen species (ROS) and methylglyoxal (MG)-related pathways.
Redox- and glycation-responsive molecular mechanisms underlying pathophysiological processes (aging, dismetabolism, neurodegenerations etc.).
Cellular mechanisms underlying female gonadal response to oxidative and dicarbonyl stress in aging, dismetabolisms and antitumor therapies.
Role of sirtuins and NAD+ in gametes.
Cellular, metabolic and molecular mechanisms underlying drug resistance and reprogramming in cancer.
Keywords: reactive oxygen species (ROS), methylglyoxal (MG), hormesis, cellular adaptations, sirtuins, NAD, aging, reproduction, metabolism, oxidative stress, glycative stress, dicarbonyl stress, oocyte, drug resistance, cancer cell reprogramming.
Research Group 2
Sandra Cecconi
Valentina Di Nisio
Research Themes
Identification of regulative pathways involved in mammalian oocyte development.
Keywords: oocyte, meiosis, signal transduction, cell cycle regulation.
Research Group 3
Simona Delle Monache
Fanny Pulcini
Loreto Lancia
Research Themes
Physiopathology of angiogenesis: molecular mechanisms involved in physio-pathological angiogenesis; use of classical endothelial in vitro and in vivo models and developing of new models.
Stem cell biology: isolation, differentiation of adult stem cells and development of 3D models.
Keywords: angiogenesis, endothelial cells, stem cells, VEGF
Research Group 4
Roberto Iorio
Sabrina Petricca
Research Themes
Evaluation of the combined cytotoxic effects of currently used conazole fungicides on male reproduction.
Keywords: drug interactions; mitochondrial dynamics; autophagy; apoptosis; reactive oxygen species (ROS); AMPK/ULK1 axis.
web page administrator: Stefano Falone