Università degli studi di Bari – Aldo Moro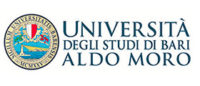 Last Update: December 25th, 2022
University Professors in Experimental Biology (BIO/13)
Anna Gallone – Dip. Scienze mediche di Base, Neuroscienze e Organi di Senso (SMBNOS)
Referente e decano del settore nella Scuola di Medicina
PO (Professore Ordinario / Full professor)
PA (Professore Associato / Associate Professor)
RTI (Ricercatore a Tempo Indeterminato / Assistant Professor)
RTD-A (Ricercatore a Tempo Determinato – Junior / Fixed-term Junior Assistant Professor)
RTD-B (Ricercatore a Tempo Determinato – Senior / Fixed-term Senior Assistant Professor)
Fellows in Experimental Biology (BIO/13)
Michele Mangarelli – University of Brescia
Mariagiovanna Di Chiano – Dip. Scienze mediche di Base, Neuroscienze e Organi di Senso (SMBNOS)
Ohiemi Ocheja – Dip. Bioscienze, Biotecnologie e Ambiente (DBBA)
A (Assegnista di Ricerca / Post-Doctoral Fellow)
D (Dottorando / PhD Student)
B (Borsista / Fellow)
T (Tutor)
Research Group 1
Anna De Grassi
Ciro Leonardo Pierri (PA BIO/10 – Biochemistry)
Vincenzo Tragni (Post-doc fellow)
Research Themes
High-throughput sequence analysis of nucleic acids and proteins: discovery of novel disease-genes in rare disorders, evolution of genes and genomes, gene expression regulation in cancer and metabolic disorders, dry-wet chemical screening for drug discovery.
Keywords: NextGen DNA Sequencing, Bioinformatics, Rare disorders, 3D protein structure.
Research Group 2
Nicoletta Guaragnella
Ohiemi Ocheja (PhD student)
Ehtisham Wahid (PhD student-DEI-POLIBA)
Cataldo Guaragnella (RTI-ING-INF/03-POLIBA)
Maria Antonietta Di Noia
(RTI-BIO/10-UNIBA)
Gennaro Agrimi
(PA BIO/10-UNIBA)
Pasquale Scarcia
(PA BIO/12-UNIBA)
Sergio Giannattasio
(Senior Researcher, IBIOM-CNR)
Research Themes
Molecular mechanisms of cell stress response and role of mitochondrial retrograde signaling in cell death and adaptation.
Keywords: Yeast, Cell Stress, Apoptosis, Regulated cell death, Oxidative stress, Cross talk mitochondria-nucleus-cytoplasm, Metabolism.
Research Group 3
Angelo Veronese
Rosa Visone (PA MED/04-Oncohematology Università G. d'Annunzio Chieti-Pescara)
Sara Pagotto (Post doc fellow Università G. d'Annunzio Chieti-Pescara)
Matteo Fassan (PA MED/06-University of Padova)
Research Themes
Human Endogenous Virus sequences methylation status and response of the immune system; functional role of microRNA in Colon Rectal Cancer and Chronic Lymphocytic Leukaemia
Genetic and Epigenetic alteration in Colon Rectal Cancer and Chronic lymphocytic Leukaemia..
Keywords: Human Endogenous Virus, DNA methylation, Microsatellite Instability, MicrRNA, Colon cancer stem cells, Chronic Lymphocitic Leukaemia
Research Group 4
Amalia Azzariti (Researcher IRCCS Giovanni Paolo II)
Tiziana Cocco (PO BIO/10 – Biochemistry)
Gabriella Guida
Stefania Guida (RTDA MED/35 – Skin and Venereal Disease, Univ. Modena-Reggio Emilia)
Michele Manganelli (post doc fellow – University of Brescia)
Fabio Sallustio (RTDB –SSD MED-50 UNIBA)
Research Themes
Cellular Biology by cells techniques, metabolic reprogramming following proliferation and /or apoptosis and autophagic targets in human diseases, regarding genetic profiles and association of BRAF status and MC1R polymorphisms on specific pathways

Nutraceutical compounds effects on cellular models.
Keywords: BRAF status, MC1R polymorphism, PGC1alpha factor, Oxidative stress, eIF2 alpha translation factor.
Research Group 5
Anna Gallone
Paola Pontrelli
Fabio Sallustio (RTDB –SSD MED-50 UNIBA)
Daniela Fiocco (PA BIO/13 – Experimental Biology, University of Foggia)
Giuseppe Spano (PA AGR/16 – Agrarian Microbiology, University of Foggia)
Maria Teresa Rocchetti (RTDA-BIO13 Experimental Biology, University of Foggia)
Mariagiovanna Di Chiano (PhD student)
Research Themes
Study of the pigmented cell system in living organisms

Action of probiotics in inflammatory processes. Crosstalk between organs. Molecular mechanisms in kidney and neural cells

Genomic and functional characterization of Adult Renal Stem/Progenitor Cells, with an emphasis on their molecular mechanisms of renal damage recovery

Cellular and molecular mechanisms in IgA Nephropathy.
Keywords:
Melanogenesis, Probiotic microorganism, Antioxidant power, Living organism, Stress genes, Kidney cells, Neural cells, Stem cells, TLR2, Regenerative medicine, nephropathy.
Research Group 6
Paola Pontrelli
Anna Gallone
Francesca Conserva (cultore della materia SSD BIO/13)
Research Themes
Molecular mechanisms in the pathogenesis and progression of renal damage in Diabetic Nephropathy

Molecular mechanisms involved in kidney graft rejection
Keywords: microRNA, SNPs, kidney, diabetes, transplantation, transcriptomics
Teaching
BIO/13 Courses thaught by teachers of other Scientific-Disciplinary Sectors
web page administrator: Anna De Grassi