Università Politecnica delle Marche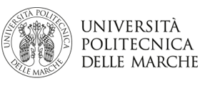 Last Update: August 12, 2019
University Professors in Experimental Biology (BIO/13)
Giovanni Principato – Dept. Dentistry and Clinical Sciences (DISCO), Section of Biology Biochemistry and Physics
Tatiana Armeni – Dept. Dentistry and Clinical Sciences (DISCO), Section of Biology, Biochemistry and Physics
Francesco Piva – Dept. Dentistry and Clinical Sciences (DISCO), Section of Biology, Biochemistry and Physics
PO (Professore Ordinario / Full professor)
PA (Professore Associato / Associate Professor)
RTI (Ricercatore a Tempo Indeterminato / Assistant Professor)
RTD-A (Ricercatore a Tempo Determinato – Junior / Fixed-term Junior Assistant Professor)
RTD-B (Ricercatore a Tempo Determinato – Senior / Fixed-term Senior Assistant Professor)
Fellows in Experimental Biology (BIO/13)
Laura Cianfruglia – Dept. Dentistry and Clinical Sciences (DISCO), Section of Biology, Biochemistry and Physics
Matteo Giulietti – Dept. Dentistry and Clinical Sciences (DISCO), Section of Biology, Biochemistry and Physics
Alessandra Righetti – Dept. Dentistry and Clinical Sciences (DISCO), Section of Biology, Biochemistry and Physics
Berina Sabanovic, Dept. Dentistry and Clinical Sciences (DISCO), Section of Biology, Biochemistry and Physics
Cristina Minnelli, Dept. Dentistry and Clinical Sciences (DISCO), Section of Biology, Biochemistry and Physics
Giulia Occhipinti – Dept. Dentistry and Clinical Sciences (DISCO), Section of Biology, Biochemistry and Physics
A (Assegnista di Ricerca / Post-Doctoral Fellow)
D (Dottorando / PhD Student)
B (Borsista / Fellow)
T (Tutor)
Research Group 1
Giovanni Principato
Tatiana Armeni
Francesco Piva
Matteo Giulietti
Laura Cianfruglia
Giulia Occhipinti
Cristina Minnelli
Alessandra Righetti
Berina Sabanovic
Research Themes
Redox signaling, antioxidant defences and glutathione redox cycle
Molecular and cellular mechanisms involved Glyoxalase II activity
Study of the CXCL12-CXCR4-CXCR7 signaling pathway in pancreatic duct adenocarcinoma (PDAC)
Role of exosomes released from pancreatic tumor cells
Keywords: Glutathione, glyoxalase II, antioxidant defences, redox post-translational protein modification, pancreatic cancer, CXCL12, CXCR4, PDAC, exosomes, epithelial to mesenchymal transition.
Research Group 2
Francesco Regoli
Stefania Gorbi
Maura Benedetti
Daniele Fattorini (Technician)
Maria Elisa Giuliani
Carlo Giacomo Avio
Marica Mezzelani
Giuseppe d'Errico
Alessandro Nardi
Lucia Pittura
Marta Di Carlo
Research Themes
Intracellular production of reactive oxygen species, antioxidant defences and oxidative stress in biological system
Molecular and cellular mechanisms involved in detoxification and toxicity of chemical substances
Cellular mechanisms in response to oxidative stress involved in biological adaptation.
Keywords: Antioxidant system and oxidative stress, lipid peroxidation, DNA integrity and DNA oxidative damage, antioxidant defences, lysosomal system, cytochrome P450, peroxisomal proliferation, modulation in gene expression, post-translational changes and functional responses.
web page administrator: Tatiana Armeni