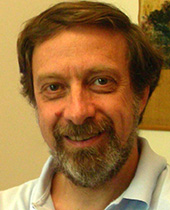 (24 Dicembre 1951 – 17 Maggio 2015)
Socio dell'AIBG fin dalla sua fondazione nel dicembre 1990. È stato nel consiglio della Associazione tra il 1996 e il 1999, ha rappresentato un pilastro dell'AIBG nell'organizzazione di conferenze scientifiche e nelle capillari e continue discussioni tra colleghi.
Il Savoiardo
Lo conobbi meglio in occasione dell'ultimo concorsone per associati, quello dei 196 candidati, che bloccò la commissione a Roma per settimane. Capitò che a volte, durante i lavori, fosse apostrofato "Il Savoiardo" da chi poteva permetterselo per ruolo, anzianità o consolidata amicizia. Comprenderete che, da ignorante, il termine mi fece venire in mente il componente principe del tiramisù, un biscotto che se inumidito si ammolla fino a dissolversi in una lattiginosa sospensione. A me non parve un gran complimento, che si sottintendesse una natura dissolvente del barbuto commissario?
Poche preliminari schermaglie (definite discussioni) e compresi l'inconsistenza del riferimento. Ore, giorni, settimane di discussioni. Calura, sudore, anche urla, ma Il Savoiardo non mostrava alcun cedimento. Sereno e pacato, ribadiva continuamente che occorreva considerare solo la qualità scientifica, le pubblicazioni, l'impact factor, etc….. Ad un tratto, qualcuno che poteva permetterselo sbottò "testa di ferro" e fu illuminazione. Il riferimento non era al biscotto ma a "Testa 'd Fer", alias di Emanuele Filiberto, il Savoiardo che alla fine del 1500 prese in mano le sorti di un decrepito Ducato di Savoia e ne fece uno stato. La storia dice che ci riuscì senza violenze ma perseguendo con tenacia ed intelligenza le proprie ferme ed irremovibili convinzioni.
Per come e quanto ho potuto conoscerlo negli anni successivi, mi sono convinto che il nostro Savoiardo sia stato un degno emulo di quello storico. Ha perseguito la qualità con tenacia e fermezza in ogni ambito in cui sia stato coinvolto. Il suo contributo nella scienza, nella formazione, nell'accademia e in prestigiose istituzioni scientifiche è e sarà ineludibile. Gli articoli, la coorte di giovani ricercatori formati o reclutati, la realizzazione del Centro di Biotecnologie Molecolari di Torino lo ricorderanno a tutti.
Però, vorrei che fosse ricordato anche per altre sue virtù, non reperibili su PubMed od altrove, ma nella memoria di chi lo ha conosciuto. In particolare, che fu (sigh!) l'unico, tra i big del BIO13, che si scatenò in danze caraibico-brasiliane al AIBG di Grado; che fu uno dei pochi con spirito goliardico, amante del frizzante della vita, si trattasse di cibo, vino o… altro. A Torino lo definivamo "the one gel-one paper scientist" per stigmatizzare uno dei suoi ammirati ed invidiati talenti: la capacità di individuare l'esperimento e il risultato utile all'avanzamento della conoscenza. Ricorderò il suo sorriso, un po' sornione e accompagnato dallo spostamento di lato dell'invidiato ciuffo, che spesso usava come risposta a punti di vista alternativi ai suoi.
Si, ricorderemo tutto quello che ci hai dato come uomo e scienziato, caro Guido.
Claudio Santoro
The man of Savoy
I knew him better on the occasion of the last contest for Associate Professors, the one with 196 candidates, who blocked the commission in Rome for weeks. It happened that sometimes, during the works, he was called "The Savoyard" by those who could afford it for their role, seniority or consolidated friendship. It can be understood that, as ignorant, the term made me think of the main component of a "tiramisu" dessert, a biscuit that when moistened soaks up to dissolve in a milky suspension. Therefore, it did not seem to me a great compliment, did it implied a dissolving nature of the bearded exam committee member?
After a few preliminary skirmishes ("discussions") I grasped the inconsistency of the mention. Hours, days, weeks of discussions. Heat, sweat, even screams, but The Savoyard showed no failure. Serene and calm, he continually reiterated that it was necessary to consider only the scientific quality, the publications, the impact factor, etc… Suddenly, someone who could afford it blurted out "iron head" and it was lighting. The reference was not to the biscuit but to "Testa 'd Fer", alias of Emanuele Filiberto, the Savoyard who at the end of the 1500s took the fate of a decrepit Duchy of Savoy into his hands and made it into a state. History says that he succeeded without violence but pursuing his firm and unshakable convictions with tenacity and intelligence.
As for how much and how long I have known him in the following years, I am convinced that our Savoyard was a worthy emulator of the historical one. He pursued quality with tenacity and firmness in every area in which he was involved. His contribution in science, training, academia and prestigious scientific institutions is and will be unavoidable. The articles, the cohort of young researchers trained or recruited, the creation of the Molecular Biotechnology Center of Turin will remind that everyone.
However, I would like it to be remembered also for its other virtues, not found on PubMed or elsewhere, but in the memory of those who knew it. In particular, he was (sigh!) the only one, among the very important persons of BIO/13, who unleashed himself in Caribbean-Brazilian dances at the AIBG Congress in Grado; he was one of the few that with a playful spirit, lover of the sparkling of life, whether it was food, wine or… other. In Turin we called him "the one gel-one paper scientist" to highlight one of his admired and envied talents: the ability to identify the experiment and the result useful for the advancement of knowledge. I will remember his smile, a little sly and accompanied by the side shift of his envied tuft, which he often used as an answer to alternative points of view to his.
Yes, we will remember everything you gave us as a man and scientist, dear Guido.
Claudio Santoro